The Jewel is an exquisitely-finished speaker designed specifically for close-distance listening with the emphasis on voice intelligibility. The recommended listening distance is 18 inches to 6 feet and its placement is recommended on a shelf as close to ear level as practical. It is not recommended for placement on a tabletop more than a couple inches from the edge.
Development of this speaker began as a reaction to the grossly bloated mid-bass, poor highs and the 'boxy' sound of table radios like the Sangean, Tivoli and 'Wave', all of which ruin voice intelligibility. Also, many radio stations and internet sources add bass frequency boost to voices to make the voice sound 'bigger' which worsens intelligibility and make these radios and other sources difficult and tiresome to listen to.
Larger speakers than the Jewel in these situations will actually sound worse when listened to up-close due to the lower midrange frequencies being reinforced by the nearby shelf / wall or tabletop boundaries, which cause the speaker to sound "muddy". The Jewel's small design and frequency contour is designed with a lower-mid frequency rolloff which is compensated for by its placement.
The result is a much more neutral frequency balance with excellent clarity. The single driver provides a "point-source", phase-coherent sound with outstanding stereo imaging. Since the speaker has been optimized for mid-to-high frequencies by reducing its size, it does not reproduce bass, yet subjectively sounds balanced.
A companion amplifier, the Pyle PCA1 'mini' analog amplifier measuring just 6 x 4 x 2 inches, is included. The tiny size, sufficient power, analog power supply and audio circuitry make it an excellent match.
Please note that if you are listening to AM radio, the small digital 'Class D' amplifiers so often seen generate considerable radio frequency noise and make listening to the AM radio band impossible due to severe static.
Also, the small but rugged two-inch driver does have excursion and thermal limits and use of the PCA1 amplifier makes an accident with damage unlikely to happen, due to the lack of a bass control.
The Jewel is beautifully finished in bronze glass mirrors with a beveled mirror top. A beveled, dark brown fabric grill complements the beveled glass mirror top.
Because the Jewel's cabinet is expensively finished, it uses Wright Audio's replacement front baffle feature. This means that should technology provide a more advanced speaker driver in the future, the front panel alone can be replaced to accommodate the requirements of the new driver so the entire speaker cabinet will never have to be replaced. This guarantees your speaker will always sound its best and never become obsolete.
No other speaker designed for this application enhances a room's decor more than The Jewel while providing a more neutral sound and a means of upgrading the sound quality in the future!
The Wright Audio Jewel Speakers and Pyle amplifier includes all the accessories to set up and use your personal audio system right away:
(2) Wright Audio Jewel speakers.

(1) Pyle PCA1 Stereo Mini Amplifier.
(1) Adapter cable - 1/8" Stereo to (2) female RCA sockets for connection of the Pyle amplifier to most portable sound devices.
(1) Pair of speaker wires, each 3 feet long to connect the speakers to the Pyle amplifier.
(1) Pair of cotton gloves to avoid fingerprints on glass mirror while setting up / handling the speakers.
SPECIFICATIONS
* Cabinet Size: Just 5 1/4" Wide x 6 1/4" High x 6" Deep

* Recommended listening distance: 18 inches to 6 feet with shelf placement.

* Amplifier Power Requirements: 2 watts. 15 watts maximum power handling.

* Frequency Response: 160Hz to 15,000Hz.

* 8 ohms Impedance.

* Large gold-plated binding posts.

* Cabinet Walls: 3/4" thick eliminates any cabinet wall flexing or sound transmission through the cabinet.

* Weight: 4 lbs. each.

* Utilizes Wright Audio's replacement front baffle feature for future upgrading / non-obsolescence.

* Cabinet Made in U.S.A.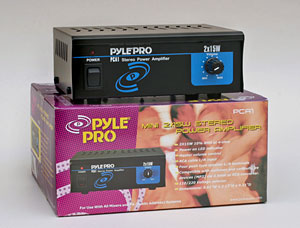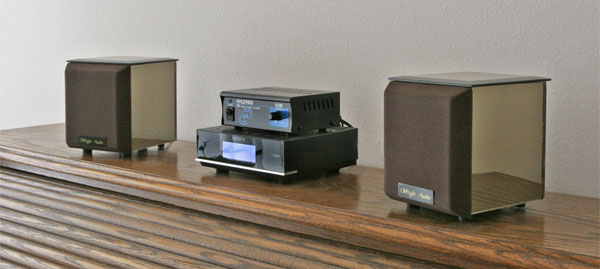 Shown with the Pyle PCA1 amplifier and Sony XDR-F1HD miniature tuner (no longer manufactured).

Price: $384 / Pair including Pyle PCA1 Amplifier

U.S. Shipping: $55

IN STOCK

Available only directly from Wright Audio.

TO PURCHASE, CONTACT
or call (971) 983-8012
9AM to 5PM Pacific Time Mon. - Sat.
| Home | Amplifiers | Speakers |
| Vacuum Tubes | Education | Support | Contact |